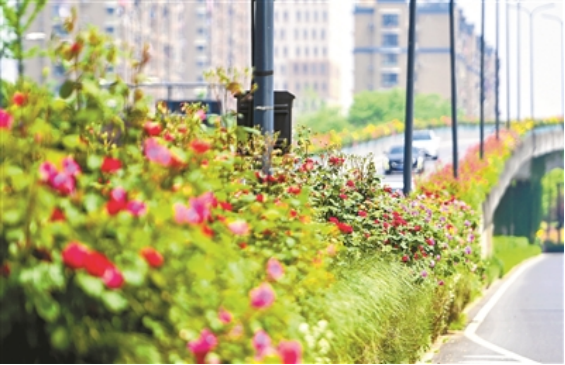 Hangzhou is about to start the "monthly season time" - the city's monthly flowers have gradually entered the peak bloom period, with 2.15 million monthly plants and more than 40 varieties on the elevated shelf alone. Millions of plants in the city are about to sway in the wind, blooming and fragrant along the way.
On April 17, in order to weave the "city brocade" during the Hangzhou Asian Games and focus on "icing on the cake", the Municipal Garden and Cultural Bureau took multiple measures to fully promote the creation of a beautiful scenery of "Flowers Full of Hangzhou". "At present, the Hangcheng elevated monthly season has bloomed one after another, the early flower moon season varieties 'Fairyland' and 'Xizi Smoke Rain' have entered the full bloom period on April 15, and other varieties will enter the full bloom period around April 20, and the flowering period can last until the 'May Day' period. At present, the monthly flower boxes on both sides of the elevated and on the isolation belt are connected for more than 500 kilometers. The expert of the Municipal Garden Bureau said.
The elevated monthly flower gallery is a beautiful landscape in Hangzhou, a "national ecological garden city". In recent years, the Municipal Bureau of Garden and Culture has searched for a number of new and excellent varieties with good self-cleaning, strong disease resistance and fresh and beautiful flowers throughout the country, and has been planted on many elevated (interchange) roads in Hangzhou, with a total of about 300,000 plants.
---
welcome to our website for more interesting news!