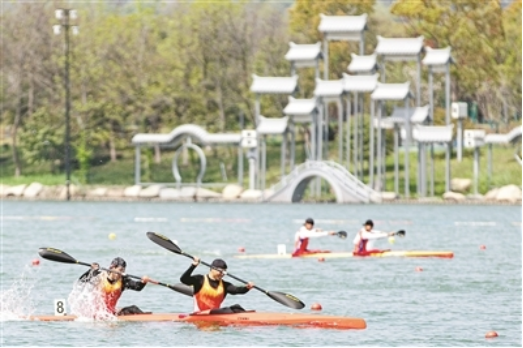 On March 28th, the Fuyang Water Sports Center, located on the bank of the Fuchun River, was bustling with the "Yunwei Hangzhou" Goat Sports Cup 2023 National Canoe Still Water Spring Championship, which is also the first event of this year's "Yunwei Hangzhou" series. In the coming month, the "Taste of Hangzhou" 2023 National Canoe Slalom Spring Championship and the "Taste of Hangzhou" 2023 National Rowing Spring Championship will be held here, and exciting water competitions will be staged on the Fuchun River.
Compared with the "Charm Hangzhou" 2022 Zhejiang Province Water Competition Invitational Tournament held last year, the "gold content" of this championship is obviously higher. The participants are the main force of the provincial (municipal) teams, the overall level and competitiveness are stronger, and it is important that outstanding athletes will be selected to form the national team preliminary selection list for the Hangzhou Asian Games and the German World Championships. Of course, this is only the first stage of selection, after which the candidates for the Hangzhou Asian Games will be finally determined based on a series of competition results.
---
welcome to our website for more interesting news!