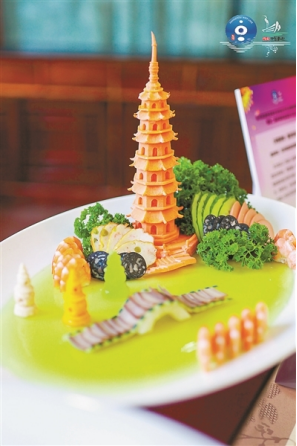 Hangzhou West Lake Xixi Scenic Area "Welcome to the Asian Games" Cooking and Service Skills Competition and the 2nd West Lake Xixi Food Festival were successfully concluded at the main store of Louwailou. Famous chefs from Xixi Scenic Area of West Lake carefully produced various innovative dishes of West Lake around the theme of "Welcoming the Asian Games, Improving Quality and Displaying Style", so that Chinese food culture and the characteristics of Xixi cuisine in West Lake can be perfectly integrated.
The participants took food and beautiful scenery as the main design line, combined Hangzhou major scenic spots, Hangzhou Olympic Sports Center Stadium, Hangzhou Asian Games mascot, Qianjiang tide, Hangzhou city flowers and other elements to show people the essence of food culture. Dingsheng cake, crab stuffed orange, Dongpo meat... The raw materials used in these traditional Hangzhou delicacies are not necessarily mountain and sea delicacies, but after the chefs' skillful fiddling, matching and cooking, the food of Lao Dizi has been rejuvenated.
According to the staff of West Lake Scenic Area, the West Lake Xixi Food Festival aims to improve the quality of catering and service reception in the scenic spot through the competition, select excellent dishes with the cultural heritage of Hangzhou and West Lake, promote them to Chinese and foreign tourists, and tell the story of Hangzhou. Next, the scenic spot will welcome the arrival of the Hangzhou Asian Games with better service and higher level of reception.
---
welcome to our website for more interesting news