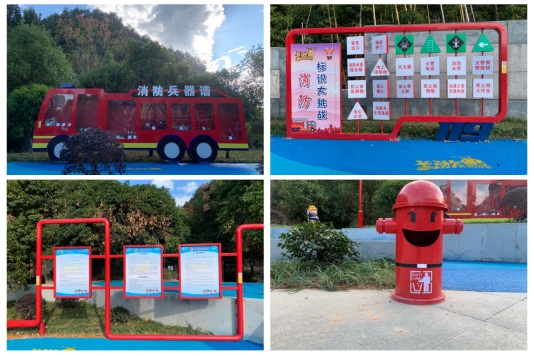 On November 17, the park with the theme of fire culture "Man" in Fenghuang Shengshi Square, Kaihua County, Quzhou City, Zhejiang Province was completed and officially opened to the public, and residents from the surrounding areas walked into the park to visit and experience, and Kaihua County Media Group also reported on the opening of the park. It is reported that this is the first fire theme park in Quzhou City in the form of animation, relying on the advantages of Zhejiang Kayou Technology Co., Ltd. in the field of animation, the animation elements are fully implanted in the construction of the fire theme park, and the park is built into an Internet celebrity check-in place for citizens' leisure and entertainment.
There are different types of fire cartoon character sculptures in the park, fire warning signs can be seen everywhere, from roads to garbage cans, fire elements can be seen everywhere, and some citizens in the park who get up in the morning to exercise stop and watch from time to time. The park also has four supporting facilities in four areas: fire culture, fire knowledge, fire skills and fire experience, so that citizens can experience fire culture from zero distance during the park. In addition, the park displays the use of fire equipment, fire protection related laws and regulations, and fire protection knowledge in life through a combination of physical objects, pictures and texts, and citizens can also learn fire protection knowledge through flop games. In the "Fire Weapons Spectrum", firefighting equipment and equipment are comprehensively displayed, so that the public can enjoy firefighting addiction in addition to visiting.
---
welcome to our website for more interesting news!