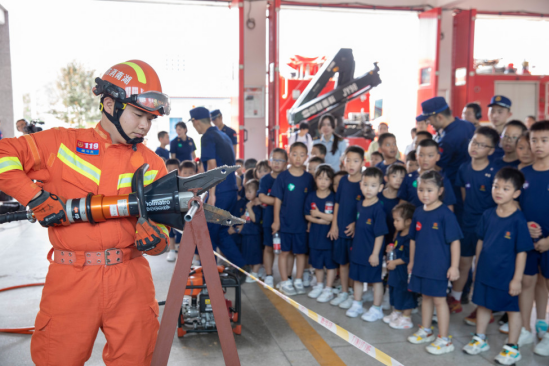 On the morning of July 27th, a loud slogan sounded in the camp of the Fire Rescue Brigade in Shigu District, Hengyang City, Hunan Province. More than 50 students put on their training uniforms and lined up in a neat team for training in queues, officially kicking off 2022. The prelude to the summer fire fighting education carnival for primary and secondary school students.
In order to enrich the summer social practice activities of primary and secondary school students, enhance the awareness of fire safety among young people, and firmly establish the idea of safety first, the Hengyang Fire Rescue Detachment innovated the education form, recruited young people to enter the fire brigade station for the society, through on-site visits, listening to lectures, fire fighting Through drills, on-site learning and other methods, students and firefighters can have "zero distance" contact, so as to achieve "learning while playing", so as to achieve "no vacation" for fire safety in summer.
It is reported that a total of 9 phases of the carnival have been launched. More than 500 students from primary and secondary schools in the city will walk into the Red Gate in batches to experience the daily training and life of firefighters in an immersive manner. The event was also broadcast live through the online platform, and more than 200,000 netizens watched it online simultaneously, achieving the good effect of "educates a child, drives a family, and affects the entire society".