The central parity rate of The yuan (6.7464, 0.0005, 0.01%) was set at 6.7473 on Oct. 14, down 177 points to close at 6.7296 and 6.7385 onshore.
On October 12th the People's Bank of China cut the risk reserve for forward foreign exchange sales from 20% to zero.This is after the central bank raised the foreign exchange risk reserve ratio for forward foreign exchange sales from zero to 20% in April. It goes back to 0 again.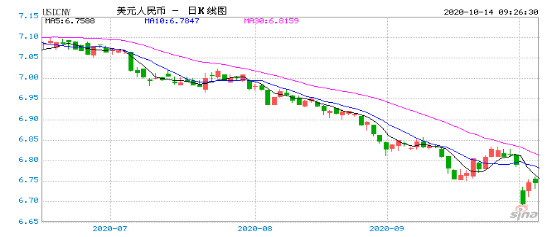 Citic Futures believes that in the short term, this policy has a strong signal significance, suggesting that the recent excessive appreciation of the RMB exchange rate has attracted regulatory attention, which will still have a certain cooling effect on the surging exchange rate market.However, insiders believe that in the short term, the RMB against the DOLLAR exchange rate may tend to shock, the central bank to reduce risk reserves to stabilize the exchange rate attitude is clear, but the actual effect may be limited, it is expected that the RMB still has room for appreciation.
_____________________________________________